July 6th, 2020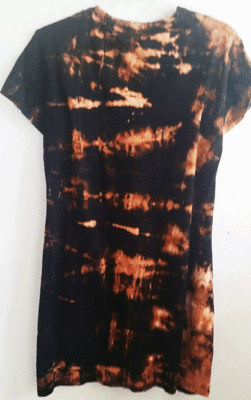 You can make a comfortable 100% cotton Tie-dyed black T-Shirt dress in 30 minutes! The process is actually a reverse tie-dye.

a.) Purchase 100% cotton knit black T-Shirt Dress from a variety of sites for $10! It MUST be 100% cotton. (Polyester or cotton blends will not work.)
https://www.gapfactory.com/browse/product.do?pid=541472041&cid=1058591&pcid=1041618&vid=1&grid=pds_4_105_1#pdp-page-content

b.) Fold the 100% cotton black dress in 2 inch horizontal accordian folds starting from the bottom of the dress. Tie the folds tightly in rings around the folds. Then, put tied dress in a large enamel (or glass pan).

c.) Pour a thin stream of bleach over the top of the tied dress. Then flip it over and pour another thin stream of bleach over the length of the tied dress. Let it sit for no more than 3 mintues. The bleach will lighten some of the black dye to a lighter shade, sometimes orange, sometimes shades of blue.

(Warning: If you leave the bleach undiluted with water on the dress for more than a couple of minutes, it will eat through the knit cloth! So make sure you dilute the bleach quickly.)

d.) Immediately fill the pan with water to saturate the tied dress with bleach and dilute the strength of the bleach. Let it sit for no more than 15 minutes in pan full of water. (You can leave it a little longer if you want a much lighter color.)

e.) Cut the string off the folded dress very carefully and immediately rinse out the bleach. I prefer to run it through the washing machine on a delicate cycle to make sure all the bleach is washed out. If you don't run it through the washing machine, make sure you rinse it thoroughly or the bleach may deteriorate the knit fibers.

f.) Voila! A new tie-dyed t-shirt dress for $10!


February 2nd, 2016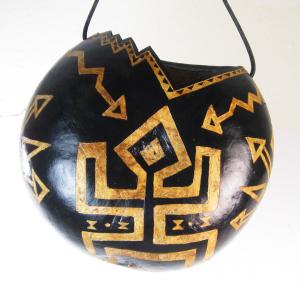 I live in Tucson, Arizona, and love Southwest petroglyph designs. I grow my own gourds and like to hand-paint them with Native American, African and Southwest tribal designs. This particular gourd had some spots that weren't perfect, so I first painted it all black and then penciled this design on the gourd. I took a small wood carving tool and carved out the design. It was my first attempt at carving.

I was happy with the finished piece and, just for the fun of it, listed it on my Etsy shop, (www.Etsy.com/shop/EspritMystique).

Whooeee! Much to my surprise, I got an email from a very sweet Hawaii Five-0 TV Production Assistant who wanted to buy my gourd as a prop for the set on their TV show! It was a rush order! She said they "needed it by Monday" (last week), so I boxed it up and shipped it off to Hawaii! It arrived on time and, the next day, they submitted a very nice "review" in my Etsy Shop for the gourd! I was ecstatic!

Since the design has a "Tiki Hut" look, I'm guessing it will appear in a future episode on Hawaii Five-0, as a prop for a restaurant, or perhaps a bar scene. Please let me know if you see it on their show. I'd hate to miss it!

I'm so happy that my humble little gourd will have earned its 5 minutes of glory!

Virginia Vivier
http://www.Etsy.com/shop/EspritMystique
http://www.Etsy.com/WitchesHammer
http://www.Witches-Hammer.com
Designs at Esprit-Mystique dot com